When FreeForm and Travertine Elevator Interiors launched the EZ Cab Builder, they knew it would be a design revolution for the elevator industry. As a leader in custom elevator interiors, Travertine built their legacy on a foundation of beautiful design and brilliant engineering. With the launch of EZ Cab, they have incorporated the lux appearance of their custom interiors with engineering know-how gained through years of industry experience to craft a line of semi-custom, clip together interiors.
The semi-custom panels are incredibly easy to install, just requiring a power screwdriver. But the real innovation with the launch of EZ Cab is the EZ Cab Builder. Hailed by FreeForm and Travertine as one of the Top Innovations of 2017 in the Elevator Industry, the EZ Cab Builder simplifies the design process exponentially.
The design portal that FreeForm built, EZ Cab, enables users to complete their interior design in minutes. Customers can simply go to the EZ Cab website on their PC or mobile device, open the EZ Cab Builder, and click their selections, from surface material to lighting, handrail, and more. As they make their selections, users are instantly presented with a manipulatable, 3D model. This model changes in real time as customers try different options to achieve their desired look.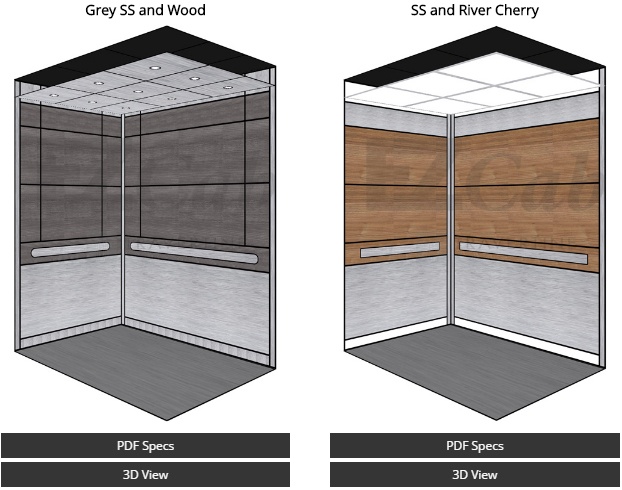 Previously elevator interior design was tricky business. It meant meetings with designers, viewing materials and options, and then going through an approval process. There is a lot of engineering that must be taken into account for materials to be functional in an elevator. Travertine built all of that into the options available in their EZ Cab Builder. The options include all kinds of materials, including woodgrains, stones, metals, and more.
Once they are happy with the look they have created, designs can be saved as PDFs, downloaded, and shared. Imagine taking a process that would have taken days or weeks in the past and streamlining it to be completed in minutes. This is exactly what FreeForm and Travertine did with the EZ Cab Builder design portal.
---
Most marketing companies are stuck on the ideas of yesterday. We at FreeForm focus on the ideas of tomorrow—to revolutionize today and go head-to-head with innovation at its finest. Our approach: design thinking. Think. Feel. Do. Through desirability, feasibility, and viability, we redesign the idea of innovation and, through it, rediscover the world through a new lens.